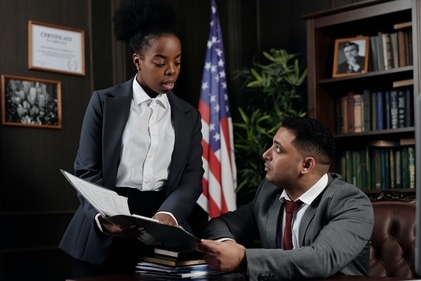 The paralegal profession is an excellent option for people who want to work in the legal industry, as these individuals work for a variety of law fields, each requiring its own unique set of skills and job responsibilities. For example, a paralegal in intellectual property might work with a corporation to secure a patent application, whereas a paralegal in immigration law could help translate documents for a client who doesn't speak English.
Here are just some of the settings where a paralegal might work:
Bankruptcy
Corporate
Criminal justice
Family law
Immigration
Intellectual property
Litigation
Medical malpractice
Real estate
Though the day-to-day responsibilities of paralegals depend on the type of organization they work for, there are some skill sets and job responsibilities that all paralegals possess, like showing great attention to detail.
Typical job duties of a paralegal:
Manages and organize case files
Drafts legal documents
Conducts research
Assists with trials
---
Paralegal Career Outlook and Salary Information
The paralegal profession is expected to grow by 14.6% in the next decade, according to Burning Glass. The median salary is $43,817, though that varies greatly by academic and professional experience. For example, a paralegal with six to eight years of experience earns a median salary of $59,000. The average salary for a Paralegal in the United States is between $50,660 and $99,830 as of May 28, 2020.
As noted on Burning Glass, a paralegal's salary depends on factors like education and training, as well as years of experience in the industry. In order to help paralegals advance their skill set, some schools offer paralegal certificates online.
---
The Paralegal Profession in Five Different Settings
Let's explore the paralegal profession in five environments, looking at the paralegal job duties and high-demand skills needed to be successful in each.
1. Corporate Paralegal
Corporate law deals with the regulations and rules set to keep things fair across the landscape of business. Parties affected by corporate law include the corporations themselves, shareholders, owners, investors, and employees.
Corporate Paralegal Job Duties:
Prepares entity formation documents for corporations, limited liability companies and partnerships
Manages government filings with federal and state agencies
Drafts corporate governance documents including minutes of board and shareholder meetings
Manages capitalization and financing summaries
Conducts and summarizes legal due diligence
Provides administrative support to attorneys
High Demand Skills for Corporate Paralegals
Corporate paralegals have to be very detail oriented. Accuracy is key in the corporate paralegal profession, as tasks involve reviewing important documents. Corporate America is known for its fast paced environment. A job as a corporate paralegal requires that you are able to work with tight deadlines, sometimes at an accelerated pace. In addition, corporate paralegals must possess excellent communication skills and those in more senior positions will need to have management skills.
2. Family Law Paralegal
Family law focuses on the issues that come with family relationships, including divorce, child custody and parental rights, paternity issues, adoption, and neglect or abuse. In addition, family law also deals with marriage parameters, like same-sex marriage, and the age two people can legally marry in any given state.
Probate and Family Law Paralegal Duties:
Gathers, organizes, and analyzes financial and family information related to preparation of estate plans
Prepares documents to be filed with the court on behalf of executors of estates
Assists attorneys in preparing draft wills, trusts, and other instruments
In divorce actions, interfaces with clients to prepare for hearings and submit financial statements and other forms to the court
Performs legal research and analyze judicial opinions relating to divorce and probate matters
High Demand Skills for Family Law Paralegals
Working in family law requires excellent communication skills to assist people who are experiencing trauma. Balancing your ability to understand their tribulations and remain professional is key to being successful.
3. Immigration Paralegal
Immigration law deals with all things related to immigration, including citizenship, naturalization, and work and study abroad visas. In addition, immigration lawyers help immigrants understand their rights in the country where they now reside and help them defend those rights.
Immigration Paralegal Duties:
Conducts legal research
Acts as a translator for clients
Assists with client paperwork
Prepares documents for Homeland Security and immigration court (US paralegal)
Drafts applications and legal pleadings
High Demand Skills for Immigration Paralegals
Since so much of immigration law involves working with people from other countries, it is helpful for an immigration paralegal to know two or more languages. Paralegals can search out specific opportunities based on the language they know. Immigration paralegals should also be patient as their clients have many obstacles to overcome, including cultural differences and language barriers. Immigration paralegals must be dedicated to learning the constantly evolving laws of the country they practice in.
4. Intellectual Property (IP) Law Paralegal
Intellectual property (IP) law focuses on securing and protecting legal rights for inventors, artists, and designers. All types of inventions can be protected by IP law, and trademarks can be created and protected for a product or company. Artistic works that are patented and protected by IP law include books, songs, plays, slogans, and product names. IP law is also used to patent and protect designs like websites and logos.
IP Paralegal Duties:
Drafts licensing agreements
Prepares patent and copyright applications, and tracks their status
Conducts IP research
Assists with IP application submission
High Demand Skills for IP Paralegals
Since intellectual property is a fairly technical field, it helps if you have some knowledge of science and technology. An understanding of marketing and advertising is also beneficial for IP paralegals, as you may work alongside advertising agencies and marketing firms on things like designs, logos, and taglines.
5. Real Estate Paralegal
Real estate law deals with most aspects of land ownership, including buying and selling real estate. Real estate attorneys are often retained by aspiring homeowners to look at things like transaction history and mortgage options. In addition, real estate lawyers (and paralegals) deal with foreclosures and legal issues with construction.
Real Estate Paralegal Duties:
Provides support for real estate transactions
Coordinates closings, and prepare files
Drafts deeds, mortgages and other closing documentation
Assists with purchase and sales contracts
Reviews title reports and resolves title issues
Prepares title commitments and title policies
Prepares rental agreements
Maintains and monitors important dates and deadlines
High Demand Skills for Real Estate Paralegals
Though real estate paralegals may work largely behind the scenes, these professionals still need to have good people skills. You will likely be asked to correspond with the clients by email or phone, and professionalism goes a long way, particularly in a back-and-forth negotiation. Real estate paralegals should be able to juggle multiple projects at once, and have excellent attention to detail.
---
Take the Next Step in Your Law Career with Boston University's Online Paralegal Studies Certificate Program
BU's flexible online Paralegal Studies Certificate program gives students access to hands-on training from legal experts at a university renowned for academic excellence. Whether students have prior experience or are transitioning into the field, the program's instructors and curriculum provide learners with distinct benefits and the professional know-how that today's employers seek.
College Choice ranked our program as one of the Top 10 online paralegal certificate programs in the United States, and Value Colleges ranks it as a Top-5 program for its focus on professional development and academic excellence.
Request a Brochure
To learn more about the online Paralegal Studies Program, contact an Enrollment Advisor at (888) 700-3966 or fill out the form below to download a free brochure.
Boston University respects your right to privacy. By submitting this form, you consent to receive emails and calls from a representative of Boston University, which may include the use of automated technology. Consent is needed to contact you, but is not a requirement to register or enroll.
Are you enrolling from outside the U.S.? Click Here.
* All fields required. Your privacy is protected.