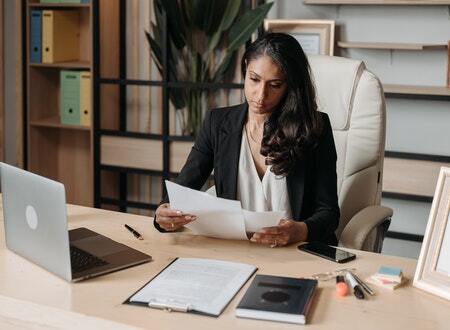 There's no one set path to becoming a paralegal, but the right education will get you well on your way. Paralegals come from a variety of backgrounds: some fulfilled other administrative roles in legal offices, while others transitioned from separate careers entirely. Unlike lawyers, paralegals do not need a juris doctor, nor do they need to adhere to state licensing requirements or take the bar exam. In fact, only one state (California) has specifications determining who is eligible to refer to themselves as a "paralegal." Because of the complexity of law, it's near impossible to enter this field without the appropriate education. An understanding of legal processes, logic, and ethics is required, and a paralegal education such as a paralegal certificate program can prepare you to excel.
In this article, we'll cover the steps to becoming a paralegal, provide a glimpse of employment demand, and offer tips for landing a job that suits your goals and talents.
How to Become a Paralegal: Education Options
The first step to becoming a paralegal is acquiring the base knowledge needed to assist attorneys in their practice. A paralegal's work involves researching laws and precedents, preparing and organizing documents, conducting investigations, interviewing clients and witnesses, creating reports, and much more.
Paralegal Certificate Programs vs. Baccalaureate/Associate Programs
The most popular options for paralegal education are certificate programs and degree (bachelor's or associate's) programs. The right choice for you depends on a number of factors, but you'll want to choose one that teaches the core competencies set by the American Association for Paralegal Education. These competencies are:
Computer skills
Critical thinking, organizational, and communication skills
Industry knowledge and ethics
Interviewing and investigation
Legal research and writing
Let's take a look at the differences between paralegal certificate and degree programs.
Certificate Programs
Paralegal certificate programs are generally quicker and less expensive to complete than bachelor's and associate degree programs. Courses focus strictly on paralegal education, so electives and concentrations generally aren't included. That said, the curriculum will cover multiple aspects of the paralegal profession, so you'll have plenty of opportunity to find areas that pique your interest. You can dive deeper into these areas through continuing education or internships.
Requirements in terms of prior education and experience differ across institutions. While it is beneficial to complete general education courses or have a few years of work experience, many programs accommodate students with varying levels of education and work history.
As such, paralegal certificate programs are suitable for people with an associate's degree, bachelor's degree, or professional credential. Some may also accept students with a high school diploma or GED.
Bachelor's and Associate Degree Programs
Paralegal bachelor's and associate degree programs are longer and more expensive to complete. They incorporate general education courses such as English composition and mathematics into the required curriculum, providing a foundational education that can support you outside the paralegal field. Additionally, bachelor's programs often offer concentrations or dual-degree opportunities, allowing for a wide-ranging education suitable for a number of different roles.
That said, if you've already completed a postsecondary program, or you know for certain that you want to be a paralegal, your time, energy, and money may be better invested in completing a paralegal certificate. Paralegal bachelor's and associate programs are suitable for people who have not yet earned a degree and/or want to enter a master's degree program in the field of law.
Paralegal Education Requirements
As noted earlier, paralegal programs are open to individuals from a wide variety of backgrounds, so admission requirements vary. And while many students wonder about GPAs, test scores, and/or required years of work experience, it's also important to remember the value of interpersonal skills. Working as a paralegal requires collaboration and interaction with lawyers, clients, judges, witnesses, and law enforcement.
The American Bar Association recommends that aspiring paralegals have or develop their:
Analytical reasoning capabilities
Sense of motivation, maturity, and responsibility
Written and verbal communication skills
Interviewing and investigation
Legal research and writing
---
Becoming a Paralegal: Entering the Industry
U.S. News & World Report ranks paralegal as the #10 best social services job, with the greatest benefit of the role being its future growth. Recent shifts in the needs of legal services have introduced the idea of expanding a paralegal's capabilities, perhaps even allowing them to provide legal advice.
Spurning this change in thought is the cost of obtaining a lawyer. The constitutional right to an attorney, which grants a lawyer to individuals who cannot afford one, only applies in criminal proceedings. People dealing with divorces, evictions, adoptions, child custody cases, immigration, and other civil issues must either pay for a lawyer out of pocket or hope someone will take their case pro bono.
Many legal professionals and advocates see this situation as a civil rights issue, believing that the ability to pay should not prohibit people from receiving competent legal representation in any capacity. To make such representation more accessible, advocates are fighting to make it permissible for trained non-lawyers to perform specific tasks previously restricted to attorneys. As an example, the nonprofit organization Upsolve preemptively sued the state of New York so it could allow trained volunteers to provide limited advice to New Yorkers facing debt-collection lawsuits.
The company's success could have nationwide implications for expanding access to legal services. In fact, as of early 2021, at least five states were considering or establishing new regulations to allow nonlawyers, including paralegals, to offer limited legal services. Oregon joined that list in early 2022 as the state's Supreme Court began considering a proposal allowing paralegals to work in family law and landlord/tenant cases.
Given the current state of the economy and the cultural focus on civil rights, it's likely that more organizations will fight to allow more accessible legal services. Should non-lawyers soon be granted capacity to expand their services, now would be the perfect time to start the process of transitioning into a paralegal career.
What Are the Career Prospects for People Seeking to Become a Paralegal?
According to the U.S. Department of Labor, the job outlook for paralegals is projected to grow at a faster-than-average rate of 12 percent from 2020 to 2030. Employment market tool Burning Glass Labor Insight calculates that approximately 110,981 paralegal job postings were listed over the past 12 months.
Skills for paralegals that are expected to increase in demand over the next two years include*:
Experience in civil litigation or real estate
Legal support and documentation
Preparation of legal documents such as pleadings and subpoenas
Trial preparation (which could earn a salary premium)

*Source: Burning Glass Labor Insight
Areas of Law Where Paralegals Work
Paralegals are beneficial in every field of law. From conducting interviews for child custody disputes to researching the history of a piece of intellectual property, their support is vital to attorneys and clients in any area. Five common settings for paralegals include:
Business and corporations
Family law practices
Immigration services
Intellectual property law
Real estate
Boost Your Paralegal Career Prospects
As you build the skills needed for a paralegal career, finding internships can give you an advantage over your professional competition. They're a great way to get professional experience under the supervision of an established attorney, paralegal, or paralegal manager. You can find internships in private law firms, government agencies, nonprofits, and for-profit institutions alike.
The Job Duties of a Paralegal: Dynamic and Specialized
Paralegals have varied responsibilities and can work as generalists or specialists. Their main accountabilities and assignments include:
Legal Research
Every legal dispute involves questions of fact and questions of law, and paralegals must be adept at researching both. Answering questions of fact involves processes similar to journalistic research, searching through library archives and the internet in addition to interviewing relevant parties. Answering questions of law requires a more specialized skill set that necessitates an understanding of statutory, regulatory, and case law. Today, the majority of this research is performed using specialized legal search engines including Westlaw Next and Lexis.
Document Indexing and Database Maintenance
Whether employed by a law firm, corporate office, or public service agency, paralegals are responsible for creating and maintaining numerous documents, files, spreadsheets, and PowerPoint presentations and ensuring that these materials are well-organized and easily accessible. Attention to detail is therefore mandatory for this profession.
Preparation of Legal Documents
Paralegal employment can be broken down into two basic categories: litigation and transactional support. On the litigation side of the law, paralegals draft legal documents including complaints, interrogatories, and various dispositive motions.
On the transactional side, paralegals might draft various forms, including offers to purchase, purchase and sales, and closing disclosure statements in real estate closings. In business law, they may be responsible for creating a variety of forms including due diligence ones. For family and probate law firms, they might oversee the establishment of powers of attorney and health care proxies.
Legal Writing
Paralegals frequently write detailed reports or memorandums for their supervising attorneys, most commonly using the IRAC (Issue, Rule, Application, Conclusion) style of legal writing. Aspiring paralegals should understand how to synthesize the various facts of a case with related laws.
---
Take the Next Step in Your Law Career with Boston University's Online Paralegal Studies Certificate Program
BU's flexible online Paralegal Studies Certificate program gives students access to hands-on training from legal experts at a university renowned for academic excellence. Whether students have prior experience or are transitioning into the field, the program's instructors and curriculum provide learners with distinct benefits and the professional know-how that today's employers seek.
College Choice ranked our program as one of the Top 10 online paralegal certificate programs in the United States, and Value Colleges ranks it as a Top-5 program for its focus on professional development and academic excellence.
Request a Brochure
To learn more about the online Paralegal Studies Program, contact an Enrollment Advisor at (888) 700-3966 or fill out the form below to download a free brochure.
Boston University respects your right to privacy. By submitting this form, you consent to receive emails and calls from a representative of Boston University, which may include the use of automated technology. Consent is needed to contact you, but is not a requirement to register or enroll.
Are you enrolling from outside the U.S.? Click Here.
* All fields required. Your privacy is protected.