Paralegal Careers
Earning a certificate in paralegal studies provides professionals with the technological tools, legal writing abilities and research skills needed to expand their career opportunities in the legal field and throughout a variety of industries. Paralegals (also sometimes referred to as legal assistants) are typically employed by law firms; however, they can also work in corporate settings or in varied levels of government. The duties of a paralegal can change depending on the services their employer provides. Some paralegals may focus on real estate law, for example, while others may assist attorneys in litigation or business law.
Paralegals work in a variety of industries including:
Entertainment/Media
Financial Services
Healthcare
Hospitality
Insurance
Pharmaceuticals
Private Consulting
Real Estate
Retail
Technology/Software
Telecommunications
Transportation
The field is growing much faster than the national average with the Bureau of Labor Statistics projecting a growth rate of 15% through 2026 with over 41,800 new paralegal jobs created.
A career as a paralegal can also be lucrative compared to other similar positions. In some areas of the United States, paralegals can make more than $100,000 per year. The salary of a paralegal also improves with experience level:
Job Title
Median Salary*
Paralegal Manager (15+ years)
$114,224
Paralegal (15+ years)
$96,223
Paralegal Supervisor (5-10 years)
$85,336
Paralegal (5-10 years)
$85,321
Paralegal (2-5 years)
$71,685
Paralegal (Entry Level)
$61,644
Source: Salary Wizard, July 2018


*Salary information will differ by geography. The median salary information listed is specific to the Boston, MA area.
Paralegal Career Guide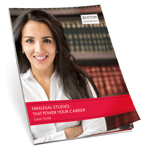 Download the paralegal career guide for more detailed salary information and to learn how a paralegal certificate can improve your job prospects. This helpful guide also includes additional information related to job opportunities, career trajectory and pathways to becoming a paralegal. Contact an enrollment advisor at (888) 700-3966 with questions related to your specific career goals.
Download Career Guide and Program Brochure
For more information on the industry and how you can use the online paralegal certificate within the field, view these helpful resources:
Request Information
---
To learn more about the online Paralegal Studies Program, contact an Enrollment Advisor at
(888) 700-3966
or fill out the form below to
download a free brochure and career guide.
Boston University respects your right to privacy. By submitting this form, you consent to receive emails and calls from a representative of Boston University, which may include the use of automated technology. Consent is needed to contact you, but is not a requirement to register or enroll.
Are you enrolling from outside the U.S.? Click Here.